Our Workshops
Parents Forum is a non-profit, community-based organization that offers workshops teaching emotional awareness to help participants improve their communication skills.
We offer several different workshops:
How to Tell Somebody Something They'd Rather Not Hear. This is a 30-minute, one-topic mini workshop. It's designed for any audience and is a great introduction to our training methods. It's ideal for a workplace "lunch-and-learn" session, for school PTA/PTO night, or use in other community group settings. More about our mini workshop »
Parents Forum Workshop focuses on families and parenting skills. Parents learn how to use emotional awareness and conflict management skills to foster better communication within their family. More about Parents Forum workshops »
Spotlight on Conversation Workshop applies the principles of emotional awareness and conflict management to improve communications in group settings. This workshop is ideal for employers that would like to improve productivity and group dynamics in the workplace. More about Spotlight on Conversation workshops »
New workshop in development:
Learning What We Live Workshop is designed for middle-schoolers. In this workshop, the Parents Forum curriculum will be tailored to helping school children learn about emotional awareness and apply new skills for communicating better.
The Curriculum
Our workshop curriculum, was developed by Eve Sullivan and Christine Bates is explained in the book Where the Heart Listens, written by Eve Sullivan. Learn more about the curriculum »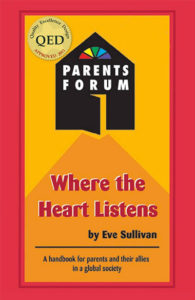 There are two ways to bring the curriculum to your group:
Sponsor a Workshop. Parents Forum conducts workshops for community-based groups and employers in the United States and various other countries. The curriculum has been translated into nine different language and can be taught in person or online via webinar.
Organizing a Parents Forum Chapter. Parents Forum also trains group leaders and  licenses our workshop curriculum to workplace and community-based groups who would like to offer regular workshops to their members. Learn More »